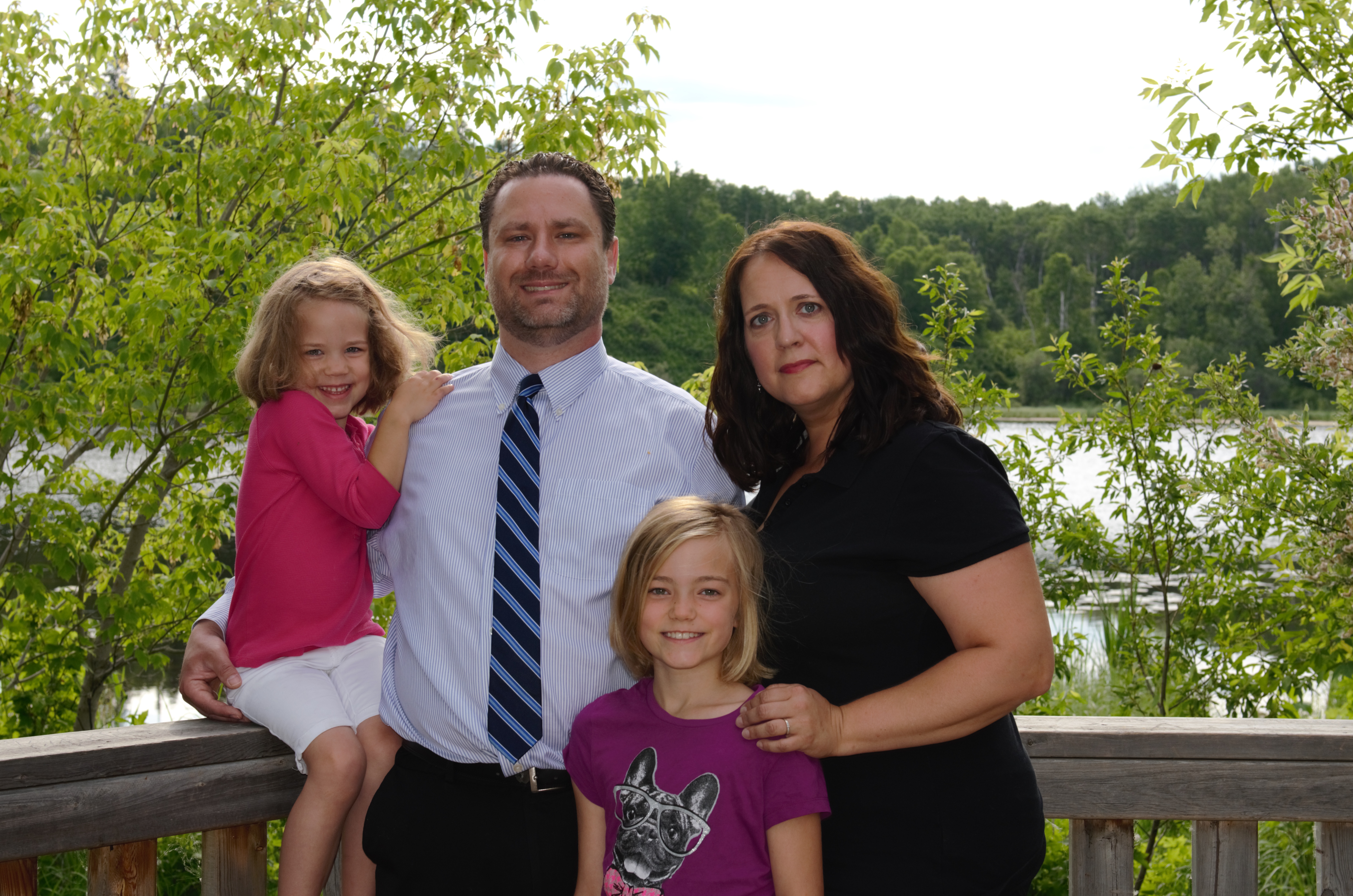 I am a family man …
During university I met my wife Megan, herself a graduate of the University of Lethbridge. We married and lived in Slave Lake for a year before settling in Cold Lake in 2001. We have two daughters, Amelia and Charlotte. Amelia is in her third year in a local school in the French immersion program and Charlotte is in kindergarten.
I have lived in Alberta all my life …
I was born in Slave Lake, Alberta to hard working parents. My father is a retired mechanic and my mother is a bookkeeper. I grew up with my brother Chris and my sister Melonie.
I am employed as an accountant …
I work as an accountant in Cold Lake to help our local charities, corporations and individuals navigate the tough environment of the Canadian tax system. We are known our integrity and reliability in all that we do.
I am a conservative at heart …
We are at a time when the Alberta government is the largest it has ever been. It is no wonder that we have massive deficits and so much red tape that our front line workers are hampered at their work. I will strive to bring our deficits under control, pay off our debt, cut the red tape, restore property rights, safeguard Alberta's vulnerable and get the funds back to our valued front line public servants.
I have a university degree …
Having always enjoyed math in school I pursued accounting at Red Deer College before transferring to the University of Lethbridge where I completed a Bachelor Degree in Management with a double major in accounting and finance.
I admire our local volunteers …
Our local volunteers work to make sure that the Bonnyville – Cold Lake riding is clean and safe, the programs are fun and helpful. We could not be a thriving community without many gifted people. Our community needs those with skills for firefighting, coaching, elderly support, animal care, community beautification, record keeping, teaching our children and making coffee.
I love going to movies …
Though working a full-time job and being committed to bringing in a majority Wildrose leaves me little free time I still find time to take in a movies with Megan, Amelia and Charlotte. My movie tastes are wide ranging and among my favorites are Avengers, Frozen and Unforgiven.
I am a dog man …
I love dogs. I can honestly say that I have never met a dog that I didn't like. When Megan and I decided to commit to getting a dog 12 years ago we found Rogue. She is an intelligent, energetic border collie – husky cross. She is blessing to our family every day through the love and companionship that gives us.
I enjoy a good Alberta steak …
After working a hard day there is nothing like sitting down and having a delicious meal with my family. In the summertime especially, there's nothing quite as satisfying as a beautiful Alberta steak grilled over the grill. The ritual of building the fire, the aroma of smoke, and the mouthwatering flavor of grilled Alberta beef all contribute to the uncomplicated pleasure of this summer tradition.
I like to hear from people in our community …
I want to know what is important to you.